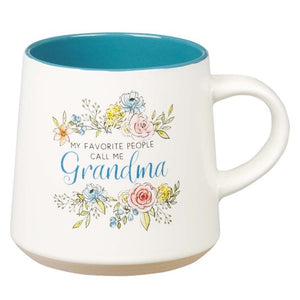 The Ceramic Grandma Coffee Mug with Clay Dipped Base will warm Grandma's heart on Christmas, or any special occasion! This delightful mug is a charming reminder of her most treasured title and the little people who made it a reality. 
This stout Ceramic Coffee Mug features a homespun floral motif set on a natural background framing the proud statement: "My favorite people call me Grandma."
A complementary shade of deep teal green brings richness to the interior and rim. The wide base features an accent of exposed natural stoneware. The back of the mug features a sweet bouquet of flowers.
This Ceramic Grandma Coffee Mug with its Clay Dipped Base would make an excellent gift for a new grandmother! 
Ceramic Mug 
Microwave Safe 
Dishwasher Safe 
Freezer Safe 
Packaged in a Gift Box
Capacity 14 fl oz (414 ml)