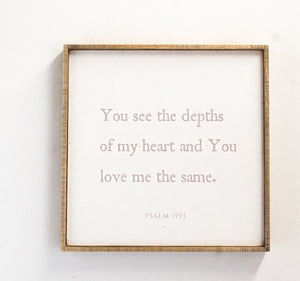 "YOU SEE THE DEPTHS OF MY HEART AND YOU LOVE ME THE SAME"
Inspired by Psalm 139:1 (ESV) "O Lord, you have searched me and known me!" 
This sturdy, American made wall art is perfect in any space. With its subtle gray words of inspiration, it looks great over a fireplace or headboard.
25" x 25" Natural Wood Framed Sign
Handmade in Franklin, TN., USA.
Mounted Hangers for easy hanging
Smoked Oyster Gray on a distressed white background
Solid Wood